I went to the Tate Modern to check out the Olafur Eliasson exhibition. It's been on for a while, since July 2019, and it is on until January 2020. I heard good things about it and I've seen it advertised countless times on the London Underground, perhaps serving as an unconscious reminder to go and see it.
I didn't know what to expect, I only saw pictures of examples of his work which I liked. To add some background, Olafur Eliasson is a versatile artist creating work including installations, sculptures, photography and paintings. He uses various materials in his work to create original pieces inspired by nature and the state of the world and his own personal experience.
The exhibition was unlike any other exhibition I've been to before. It was immersive and relatively easy to breeze through, as the installations were pretty self -explanatory with minimal explanations. The centre of his work is the psychology and ability to engage with your senses, thereby creating immersive experiences .
For Eliasson, this heightened awareness of yourself and other people creates a new sense of responsibility. Ultimately, he believes that art can have a strong impact on the world outside the museum.

Olafur Eliasson: In Real Life Exhibition Guide
To put it in a nutshell, the exhibition brings together 40 of his works from 1990 till today. A Model Room contains around 450 models of various shapes, showing his interest in geometric shapes and symmetries, that he later uses as a base for his sculptures. There is a room encompassing his Early Works including the Moss Wall.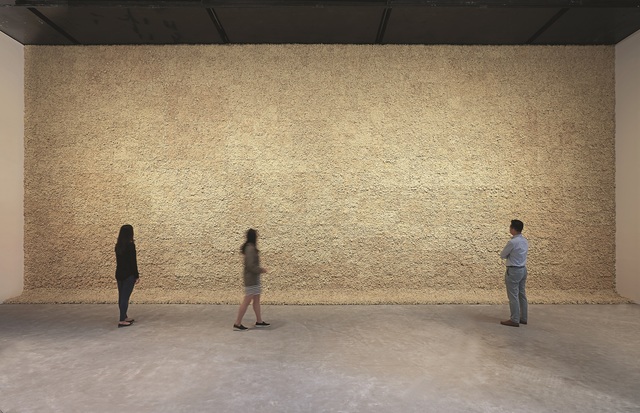 Olafur Eliasson works with a lot of light and colour that is evident in his work of Beauty, which has a room dedicated just for this one work. It is a device that sprays misty water in a darkened room into a bright spotlight with several filters creating a rainbow effect. It is truly remarkable.
Like Beauty, Eliasson's experimentation of light and colour is seen in his work of kaleidoscopes, which he has been working on since the 1990s. One beautiful example is Your Spiral View which he made in 2002. It is an eight- meter long tunnel and once you enter you find yourself in a kaleidoscope. His latest one In Real Life, made earlier this year, is a sphere with a lamp in its center that projects a colourful pattern of light onto its surroundings.
One piece of work which stood out to me was Din Blinde Passager, translated to Your Blind Passenger, which is essentially a tunnel consumed with fog. The furthest you can see is about a meter away but as you walk through the tunnel, the colours change, making for an interesting experience. You feel like you are in a different world. It was created with the intention to restrict visual perception and to find alternative ways of navigating, much like blind people.
Eliasson also draws upon real world issues as inspirations for his work. He has developed a personal connection with Iceland which he used to visit as a child. He draws on his experience to bring awareness to what climate change and global warming is doing to the world. He has proven this in his large scale work Ice Watch – a set of real ice blocks taken from Greenland – and give people a chance to experience first hand the rate at which ice is melting. It was shown at the Tate Modern late last year and was incredibly successful.
When they were installed outside Tate Modern, each of the ice blocks weighed between 1.5 and 5 tonnes. The carbon cost for bringing the 30 blocks of ice to the two sites in London was approximately equal to flying two school classes (52 students) from London to Greenland and back to witness the melting of the Greenland ice sheet. In comparison, hundreds of thousands of visitors experienced Ice Watch in London and connected with the issue of the climate emergency.

Olafur Eliasson: In Real Life Exhibition Guide
Overall, I had a wonderful experience and would definitely recommend it. It makes you think about the state of the world and what we take for granted. The immersion and interactivity brings the exhibition to life and makes you feel a part of it. I really hope that interactivity will be the future of exhibitions, not just digitally but like the title of the exhibition, being part of it in real life!
For more information about the exhibition, visit the exhibition website.
Leave me a comment with your thoughts 😊 Looking forward to reading your views