The news of today is that Joker (2019) became the first R-Rated movie to surpass $1bn in total global sales 😱 I thought I would write my views of the movie as I believe it is a relatively dark and strong film dealing with some very serious issues like mental health and violence and it is important.
I'm going to start by saying that I've never been a gigantic fan of comics. I used to watch some here and there as a child on Cartoon Network but I was never crazy about them😂. I haven't even seen the Marvel movies, I mean, where do I start? There are so many of them and they are all interlinked somehow. I know that the Joker was a character from the DC comics and he became more popular with the success of 'Batman: The Dark Knight', when Heath Ledger portrayed him before his death.
On this note, I didn't have much information of what the film will be about. I just read good reviews about it, much like anything else, before I saw it. Knowing this, I didn't really have many expectations, I just assumed it would be related somehow to the comic universe and would be action-y, like the others. I was wrong. There was a whole story behind it.
The story is about a guy called Arthur who works as a clown but struggles with mental illness. It is not known what his mental illness is but he visits a social worker and is on medication. We see that he is abused and bullied and all he wants from society is to be loved and accepted, ironically being a clown. He is attacked in an alley that slowly starts his spiral into madness and becoming the criminal mastermind known as Joker.
It was made into a realistic depiction of the character – like the character was a guy living in the real world with a job and everything. If I hadn't known that it was based on a comic, I would have thought it was based on a real life story. That's how realistic I thought it was. The action was not your usual superhero action either, it was realistic action, with guns. Real-world violence.
The plot itself was not the highlight for me. I can understand now the reason of why Joker became a villian and I have more of an understanding, but it was more about the depth of the character of Joker himself and his struggles. Joaquin Phoenix did an amazing job as an actor. So amazing in fact that I wouldn't be surprised if he'd be nominated, and even win, an Oscar.
It's not all great though because it generated controversy. Unsurprisingly, it was about the depiction of mental health issues, which was at the center of the movie. There is a scene where Arthur scribbles in his notebook – "The worst part about having a mental illness is people expect you to behave as if you don't".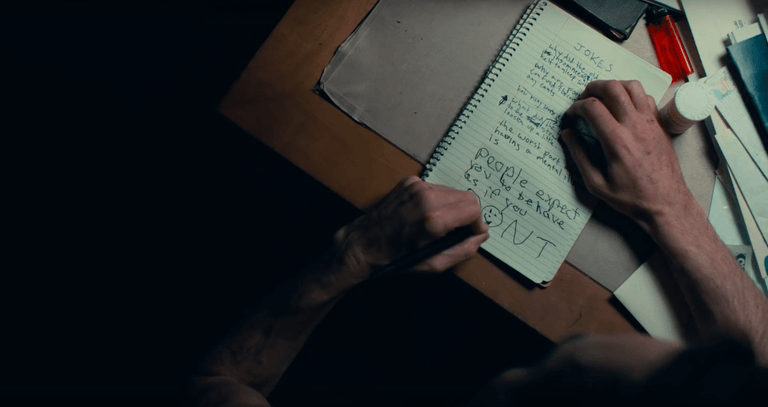 This resonates with anyone who struggles with mental health issues. It is invisible. It is a very real problem that people can relate to every day.
I guess it can increase sympathy because it makes him more relatable and it brings awareness to what millions of people are facing every day but I also understand that it doesn't excuse the murders that he commits. He uses his mental health issues to justify his killings and violence. He kills the people who have done him wrong in some way. At the end of the movie he is validated and 'accepted' by the masses, which just shows that is what he was lacking and what he needed from the start. It's a double edged sword.
Todd Phillips, the director, didn't intend for the movie to 'glorify' violence with Warner Bros publicly apologizing for this perspective.
It has become a very political movie with people on both sides of the debate. It is unlike any other comic book movie to be released. It is unique and doesn't have a specific niche of audience, as it can appeal to many.
When it premiered at the Venice 76th Venice Film Festival in August, it was heavily praised and won the award for Best Film, even before its release in cinemas.
I think that the success of the movie is mainly down to the conversation and controversy that it has generated, and rightly so. Todd Phillips has even expressed himself that he doesn't believe that there is anything wrong with getting people talking about it.
Isn't it good to have these discussions? Isn't it good to have these discussions about these movies, about violence? Why is that a bad thing if the movie does lead to a discourse about it?

Todd Phillips for The Wrap
After all, the whole purpose of a movie is to tell stories and generate conversation, even if they deal with difficult and complex issues. And that is perhaps one of the reasons why it has generated the $1bn it has.
What do you think of the Joker? What side of the debate are you on?